Commission FAQ
From Plushie.Horse

This FAQ was written from a plush maker's perspective and sometimes doesn't provide the kindest opinions to potential commissioners, but the author is being honest as far as her outlook is concerned. Other plush makers may vary in their opinions.
What do I need to have before I do anything?
[
edit
]
Do you have a DeviantArt? If not, get one!
[
edit
]
Most artists communicate primarily through deviantart. Some have emails or tumblr's posted, but your best bet is communication through deviantart. You don't have to use it for anything but contacting artists if you like. You don't have to post art to be on the site. Joining is free.
Do you have a Paypal? If not, get one!
[
edit
]
Most artists accept money through paypal. You can always ask if an artist has alternative ways to pay such as Google Wallet, cryptocurrency, or see if they accept a money order. Some artists are flexible. It shouldn't have to be said, but never send cash in an envelope to an artist (especially if they're not well known yet). There are a lot of scammers out there that can just say they never got your payment, even if they did.
Is the plush you're wanting of an OC? You'll need a visual reference!
[
edit
]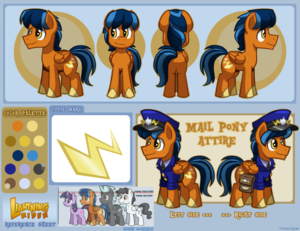 Seriously. No artist will attempt to make your OC from a description. Draw it yourself. Have an artist friend draw it. Get a commission of it. Grab a base (search "MLP base" on google) and crudely draw some hair on it in MS Paint. Anything is better than nothing. Having a show-style turnaround reference (similar to the one on the right) is ideal. It's also a good idea to have a vector or close up drawing of their cutie mark, as well.
Also, if you want to avoid sticker shock, make sure you read this guide. If your OC is complex, you're going to be paying out the ass, no matter what you do.
How do I find an artist to make my plush?
[
edit
]
Some artists are better than others. Some are more expensive. Some only offer certain types of commission (as in, they may not have a filly or stallion pattern). Use the plush list to find an artist within your parameters. These are great tools to let you know the price range and quality for each artist, but ultimately you'll have to contact them to see how much it will be.
How do I know if an artist is open for commissions?
[
edit
]
Most artists have periodic open commission periods. If you don't frequent deviantart, it's sometimes hard to catch them when they are open. But, most artists have a status somewhere on their deviantart profile page.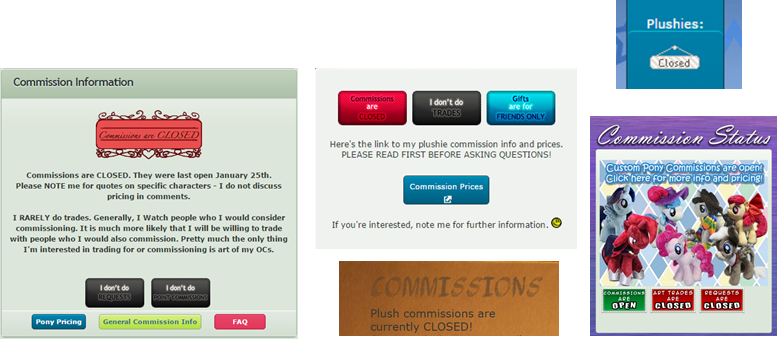 Look for this before doing anything. Some artists keep their status on their "Commission Information" journal or link, so it might be there. If you can't find a status, then you are free to politely contact the artist and ask if they're open. Pretty much any artist is open to giving you a quote whether their commissions are open or not.
Can I just get the artist to contact me/remind me when they're open?
[
edit
]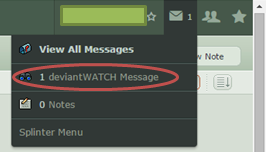 Not likely. Most artists are VERY busy and don't have the time or patience to send out individual notifications to interested parties when they're open. Most artists send out a journal in advance or when commissions open which shows up in your notifications center. Some may let you know a general date to look out for, but others may not know when they'll be open again, so you'll have to keep an eye out. Some have wait lists, so you can always ask about that too. Remember: while most artists are not first-come-first-serve, some artists are SUPER popular so their slots fill up fast! Be vigilant!
How do I get in touch with the artist? How should I ask about a commission?
[
edit
]
Most people know how to email someone, so let's go through how to note an artist on DeviantArt.
Prepare your note.

If you're watching the artist, their name will pop up when you start typing it.
Title your note with an appropriate message regarding your intentions. Blank titles come across as lazy and might cause your note to be answered slower.
If you couldn't find a status, it's okay to ask if an artist is open. If you found it and they're not, you could start by saying something like, "I know you're not open for commissions right now, but I was hoping I could get a quote for [insert pony here]" It's okay to ask about wait lists as well.
Be as specific as possible about what you're wanting. Make sure to read an artist's commission information prior to noting them so you know what options they have! Some artists offer different sizes so if you just ask, "How much would a Pinkie plush be?" they won't know what size you're wanting and can't give you an appropriate quote. Some offer customizable options right down to the stuffing, so make sure to specify as much as you can! Make sure to include references and even more specifics if you're wanting an OC!
Being polite goes a LONG way. Don't try to haggle down the price or ask for "Discounts because [insert reason here]". It really pisses artists off, even if they don't express it explicitly to you, and you're likely to immediately shoot down your chances if you do this. If you get sticker shock, it's okay to ask something like, "How much would it be if I got closed wings instead?" or "What would the price be if I left off the jacket?" but try not to do it too many times. Artists will quickly realize you're just trying to cut corners to lower the price and get frustrated with you. There is a lot that goes into making a plush and these artists are worth their time and talent.
Again, remember some artists are very busy so they might not get back to you immediately. Some of the popular ones might take a week or more, so be patient!
Why are OCs more expensive?
[
edit
]
While OCs take the same amount of materials and sewing, their designing takes more time. 9 times out of 10, an artist is going to have to design a new pattern for the mane and tail. The same for a cutie mark. Ultimately, an OC takes anywhere from 5-10 hours more work than a canon pony of the same complexity, and the artist will never use the hair pattern or cutie mark file again, so you have to pay for the full price of the labor that went into designing those specific aspects of an OC.
How do I get a plush maker to give me a discount?
[
edit
]
You don't. And don't bother asking. If you get a quote from an artist, that's what they're going to charge. While in some professions negotiating is common, it's absolutely not in the custom pony plush market. Asking for discounts is one of the quickest ways to rustle an artist's jimmys and have them refuse to do your plush. Artists take it as an insult--as if you were saying "Your plush isn't worth what you're charging, so you should allow me to pay less for it." If you want a cheaper plush, go with a cheaper artist, or buy a manufactured plush from 4DE, or OnlyFactory, or any of the other big manufacturers. CUSTOM plushies by a SKILLED artisan who is the SOLE worker are made carefully and with great attention to detail. You're going to have to pay for what it's worth.
What if I want a NSFW plush? How do I go about asking about that?
[
edit
]
The plush list filter has whether or not an artist is confirmed to do NSFW plushes, but those that don't might just be secretive about it. Most won't be offended if you ask in the right way. Make sure to check their commission information, though, because some are VERY explicit about their stand and may get upset if you ask! If you can't find an explicit notice, and you'd rather have THIS artist than a known NSFW artist, you can always ask.
Regardless if you know the NSFW status of the artist, the key is to be candid. If you don't make it awkward, the artist likely won't either. Artists are very professional, and even if they're being asked about a NSFW plush for the first time, they're likely to be very polite about it.
Use either anatomical terms, or polite terms. Avoid words like "pussy" or "fuck" or "dick". Use alternatives like:

Toy, personal insertable object, Bad Dragon, sex toy
Special compartment, vagina, special hole, hole for private use
Penis, member, nether regions

Bad:

"Umm… I don't know how to ask this… Do you make… plushies for… you know… naughty… things?" Too timid.
"I'm looking for a pony I can fuck. I need it to have a pocket pussy. Can you do that?" Too strong.

Good:

"I'm not sure if you do this or not, but do you have NSFW options?"
"I'm not trying to be offensive, but I was wondering if you could make a plush for 'personal use'?"

If you don't know an artist's NSFW status, it's best to ask a tentative intro question like the ones above before going into detail. Imagine (if you can) you're an artist never having seen or seriously contemplated the naughty side of the fandom, and all of a sudden you get a message asking for a futa Fluttershy plush with a removable penis, crotchboobs, and zippered compartment. It might catch you a LITTLE off guard. If an artist has never done NSFW before, but are still open minded, you want to give them time to mentally prepare for the explicit details. Once you've gotten, "Sure! What exactly are you looking for?" use phraseology like:

"I'm looking for a plush with a zippered compartment in the back I can put a toy in."
"I would like a plush with a realistic vagina that can be used for sexual purposes. Horse anatomy, if possible."
"Would it be possible to get a plush with a removable penis? Like: https://www.bad-dragon.com/products/chanceflared"

Again, the key is to be straightforward but use polite language.
I've ordered my plush. Now what?
[
edit
]
Now you play the waiting game! The average turnaround time for a plush commission is two months. Some can be as fast as two days, other can take six months. An artist will likely tell you how long it will take. Be patient! Many artists have "Current Commissions Status" journals or boxes, so ask if they have one where you can keep track of your progress! If they don't have one, it's okay to ask every couple of weeks or each month for any progress updates. Don't pester the artist every couple of days or every week to see how things are going, though. Asking this frequently often stresses the artist out and won't make your commission come any faster. It's a fast route to becoming a bad customer, and artists frequently share horror stories and warnings about their bad customers.
Ask any questions below and I'll do my best to answer and add them to the FAQ.
[
edit
]
Should you tell your plushmaker if you are unhappy with the product? If so, how?
[
edit
]
Will plush makers do OCs that are not my own?
[
edit
]
Based largely on How To Commission A Plush by Equine Palette
External links
[
edit
]