Epicrainbowcrafts
From Plushie.Horse
 
 
 
 
 
Epicrainbowcrafts
Available For
Commission, Sale
Size
Price
Body Type
Min
Max
Min
Max
Sitting

16 in

40.64 cm


17 in

43.18 cm

$ 390
$ 390
Standing

11 in

27.94 cm


50 in

127 cm

$ 255
$ 1,250
Beanie

6 in

15.24 cm


16 in

40.64 cm

$ 185
$ 365
Laying down

18 in

45.72 cm


80 in

203.2 cm

$ 360
$ 2,000
Features
Booty, Clothing/Accessories, Faux Fur, Wired and Poseable, Life Size, 3D Eyelashes, Cuddly Stuffing, Firm Stuffing, Lewd, Tail Dock
DeviantArt
Epicrainbowcrafts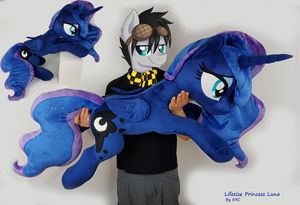 Prices
Links
Notes
Eyes are outsourced to another person on a commission basis, be sure to think of what you want if you're not into mirrored catch lights.
For OCs, beware of wanting "real hair"--colors are fairly limited
Measures laying size based on hoof-to-tail, not hoof-to-hoof
Likes challenges: Magnetically detachable teats, new outfit designs, even lingerie etc. - If you can think of it just ask
Reports of loose, weird looking and single stitches in pre-made plushies. If you're ordering, it's better to have it custom-made for you.